Mark in Brighton
June 1998, Pictures
Trinity Lodge (actually Dublin)
The Flight
Royal Albion Hotel
Palace Pier
Board Walk
Mark
Street Entertainers

---
Trinity Lodge (actually Dublin)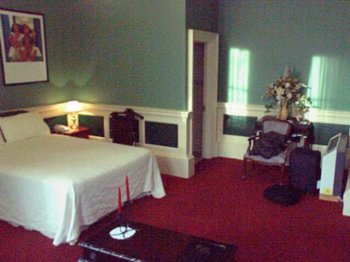 This was my room for the last Sunday in May. Free upgrade, one night only unfortunetly!
---
The Flight

Shortly after take off in Dublin, in mid flight over the Irish sea, and shortly before landing in London Gatwick.
---
Royal Albion Hotel

The view from my window, and hotel as seen from across the road (see if you can work out which is my window).
---
Palace Pier

Yesterday and today. Today is a bit cloudier and a lot windier.
---
Board Walk

Recently restored and refurbished, extending along the sea front for about 2 miles, the seaside resort part of Brighton.
---
Mark

Proof that I am actually there!



The Lanes. Brighton's little maze of claustrophobic but very trendy pedestrian shopping streets.
---
Street Entertainers

This is a kind of African dance troop (as far as I could work out) performing for free at the entrance to the Palace Pier.



This guy was in "The Lanes" doing a combined bed of nails and comedy routine, quote "this job is a real pain in the arse".
---